Tomorrow, from 1:30 – 3:00pm, the WFH will be holding an event to celebrate WFH Twinning Program partnerships and help participants re-connect with colleagues from around the world. This important opportunity will be co-chaired by Daniel Hart, MD, WFH HTC Twinning Committee Chair; and Deniece Chevannes, WFH HOT Twinning Committee Chair. The event will include presentations on our newly-launched in-country HTC Twinning, stories of resilience during the COVID-19 pandemic, as well as the announcement of the much anticipated 2021 Twins of the Year award.
Join us at this special event!
Session: WFH Twinning Program: celebrating long lasting partnerships
When: Wednesday, May 11, 1:30 p.m. to 3:00 p.m.
Where: Convention Centre Room 524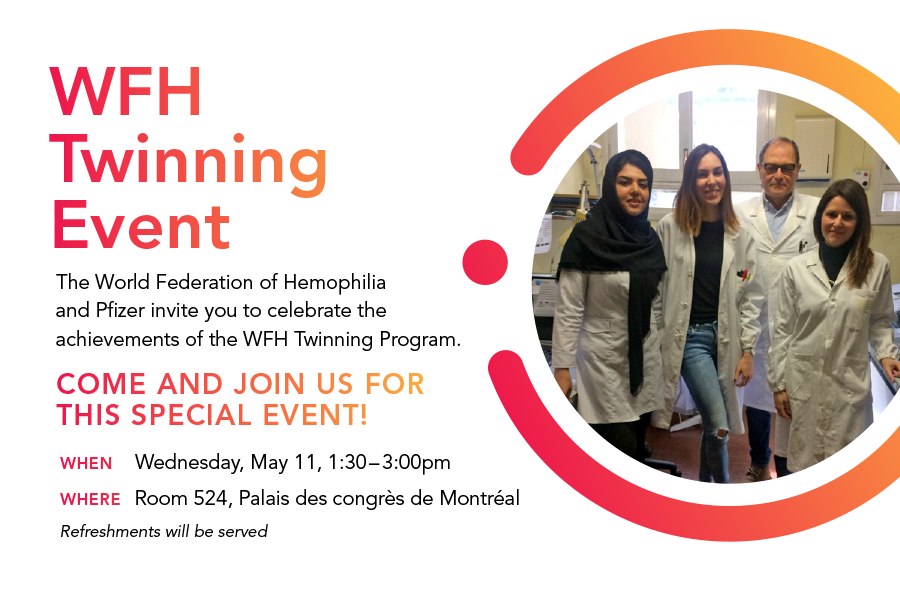 The WFH Twinning Program is supported by exclusive funding from Pfizer.