Khan Sokhai was born to a farming family in a small village in Kampong Cham province, Cambodia. From the age of twelve, he began suffering from debilitating bleeds which would mainly affect his ankles. Despite the severity of his condition, and the best efforts of physicians, he wasn't diagnosed with a bleeding disorder. As he grew up, his condition progressed to the point, where, in 2009, part of his right leg was amputated due to complications related to ankle osteoarthritis.
Soon after this procedure, Sokhai was referred to a hemophilia treatment centre (HTC) where he was finally diagnosed as having hemophilia A. At that facility, he received donated treatment product provided by the WFH Humanitarian Aid Program. While this meant that his acute bleeds were less severe, he still couldn't work consistently, and his joints continued to degrade, although to a lesser degree than before treatment.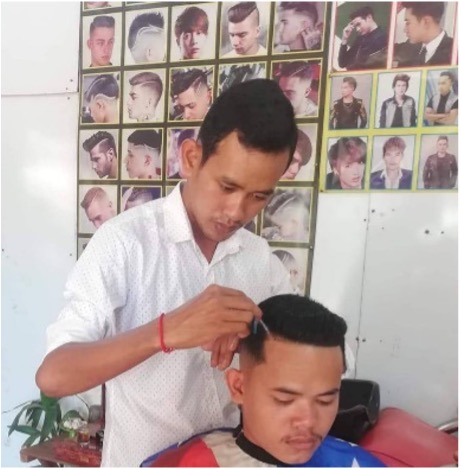 Then, in 2020, Sokhai's life took a dramatic change for the better. Thanks to the years-long work of the WFH Humanitarian Aid Program and the dedication of HTC staff, the level of care in Cambodia increased to a point where prophylaxis began to be more readily available. Sokhai was selected for a prophylactic therapy regimen, and his condition improved dramatically. For the first time in his life, he was able to live bleed-free.
Now, less than three years after he began the treatment, Sokhai runs his own barbershop. He can provide for his wife and two sons, and no longer lives in fear of a debilitating acute bleed. Instead of living from one emergency to the next, he can plan appointments around his schedule at the HTC at the National Pediatric Hospital Cambodia in Phnom Penh.
The WFH Humanitarian Aid Program has donated over 15 million IUs of factor and over 276,000 mg of non-factor replacement therapy to Cambodia since 2015. Over two million IUs of factor, and nearly 57,000 mg of non-factor replacement therapy have already been donated so far this year. To watch a video about the improvement in care in Cambodia, click here. To find out more about the WFH Humanitarian Aid Program, please click here.
About the WFH Humanitarian Aid Program
The WFH Humanitarian Aid Program improves the lack of access to care and treatment by providing much-needed support for people with inherited bleeding disorders in developing countries. By providing patients with a more predictable and sustainable flow of humanitarian aid donations, the WFH Humanitarian Aid Program makes it possible for patients to receive consistent and reliable access to treatment and care. None of this would be possible without the generous support of Sanofi and Sobi, our Founding Visionary Contributors; Bayer, CSL Behring and Roche, our Visionary Contributors; Grifols, our Leadership Contributor; and Takeda and Japan Blood Products Organization, our Contributors. To learn more about the WFH Humanitarian Aid Program, visit www.treatmentforall.org.