The Susan Skinner Memorial Fund Scholarship (SSMF) is looking for eight individuals from 18 to 60 years old who identify as women, want to develop their leadership skills, and are driven to become advocates for their community. The Susan Skinner Memorial fund endowment aims to give a voice and boost the confidence of women who far too often feel ignored when seeking diagnosis, treatment. Scholarship recipients demonstrate outstanding leadership potential to improve the care of women with bleeding disorders in their country, and often go on to become leaders of their national member organization (NMO).
2015 Susan Skinner Memorial Fund recipients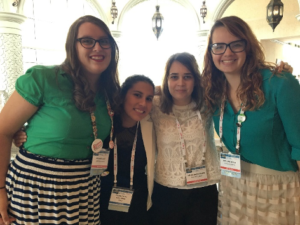 As an SSMF scholarship recipient, you will be empowered to advocate for the improved care of women with bleeding disorders by getting the chance to participate in unique global networking opportunities, and by receiving hands-on training to develop your leadership skills. "I was able to learn that it is possible to have a voice and an impact on the bleeding disorder community no matter your gender, age, race or bleeding disorder," said Ashley Taylor-Fowlie (2016 SSMF scholarship recipient, New Zealand). Like Ashley, you can deepen your engagement with your community and have an impact.
The experience I had through this scholarship gave me the motivation to go back to my country and deepen my engagement with the local community.
- Maria Nacheska (2008 SSMF scholarship recipient, Macedonia)
All scholarship recipients receive a complimentary registration for the WFH 2022 World Congress—the largest meeting for the bleeding disorders community—which will take place in Montreal, Canada (note that in-person attendance will depend on Canadian safety protocols at the time of the event). This once-in-a-lifetime experience will give you the opportunity to participate in skill-development workshops, learn from female leaders in the global community and deepen your understanding of current best practices in bleeding disorders care.
"The Congress was one of the most meaningful experiences of my life. [It was very special] having the opportunity to connect with people from other cultures, and from every continent, who have the same interests, have a bleeding disorder, and want to volunteer," explains Nikole Scappe, (2018 SSMF scholarship recipient, U.S.A). "This increased my confidence as a person as well as my confidence in my ability to work internationally and be successful." To read about the experiences of other SSMF scholarship recipients, please click here.
It's time to stand together to ensure that no woman or girl is left feeling unheard. Aspire to inspire and submit your application to be the next Susan Skinner Memorial Fund Scholarship recipient!
Click here to learn more about the application process
The deadline to submit your application is November 15th, 2021
Interested in supporting the scholarship? Click here.