For over the last five years, the Haemophilia Foundation of Nigeria (HFN), in collaboration with the World Federation of Hemophilia (WFH), has engaged the federal government of Nigeria through the Ministry of Health to advocate for the adequate care of people with bleeding disorders (PWBDs) in the country. These efforts have now come to fruition, as the Nigerian government will officially include bleeding disorders in its health policy and strategic plan.
A proposal was developed by the WFH and the HFN, and was reviewed by representatives from the Nigerian Federal Ministry of Health and the World Health Organization (WHO). The ministry then held a five-day meeting with representatives from the WFH, the HFN, the WHO, and other stakeholders, to draft a new national noncommunicable diseases (NCDs) policy. Stakeholders present during the review meeting included the WHO, the Ministry of Health, the HFN, experts representing the interests of the five other NCDs (hypertension, diabetes, cardiovascular diseases, mental health and sickle cell disease), and other stakeholders.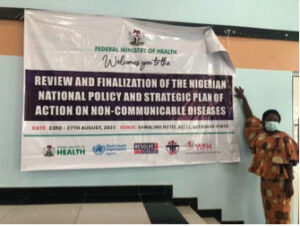 The meeting was officially opened by Oyinlola Sanni, MD, National Coordinator for NCDs. Alayo Sopekan, MD, the federal sickle cell and bleeding disorders desk officer and deputy director NCD, explained the need for the inclusion of bleeding disorders into the NCD policy: "It is evident from the data and advocacy efforts that there are citizens in the country that have been diagnosed with hemophilia and other bleeding conditions. It is therefore only logical for the government to include these conditions as one of its NCDs priorities."
Participants were broken into groups and asked to review the different sections of the previous policy and make recommendations for changes. The HFN was then asked to present their case as to why inherited bleeding disorders should be added into the policy. Megan Adediran—President of the HFN and WFH Board Lay Member—presented the status of bleeding disorders in the country—including expected prevalence versus the actual number of identified individuals. She then went over the debilitating effects of lack of treatment, such as morbidity, disability and mortality. It was unanimously agreed during the meeting that bleeding disorders had been underserved in Nigeria.
Participants agreed upon the following for inclusion in the inherited bleeding disorders section of the national health policy:
Setting-up a national structure to disseminate information
Ensuring early detection as well as proper medical care
Promoting comprehensive care and improving inherited bleeding disorders management
The government is planning a validation workshop where subject matter experts and practitioners will review the draft policy before it is presented for final approval and implementation.
The WFH would like to thank the many individuals who contributed to the success of this endeavour: Tessy Nwagha, MD; Sarah Olabode, MD; Rotimi Kareem, PhD; Florence Olukokun; Amaka Anoke; Idris Aderinto; Megan Adediran; and Alayo Sopekan, MD, federal bleeding disorders desk officer, and other HFN and state representatives. Special thanks go to Osagie Emmauel Ehanire, MD, the Nigerian Minister of Health, whose support contributed greatly to the realization of this accomplishment.