"I am extremely proud of this important milestone in terms of our close collaboration with the Ministry of Health and Minister Her Excellency Mai Al-Kailiah," said Cesar Garrido, President of the WFH. "We are all committed to improving access to care and treatment for people with bleeding disorders in Palestine. The future is full of hope." The PACT Program is a 5-year initiative designed to improve outreach and diagnosis and increase access to sustainable care for people with inherited bleeding disorders. This will be achieved through training, education, partnerships, in-country initiatives, and evidence-based advocacy.
The MoU signed in Palestine lays the foundation for the implementation of the PACT Program over the next four years. This includes the objective of strengthening the PMoH National Hemophilia Care Program and forging a consensus around introducing standardized treatment guidelines. The efforts will lead to early and accurate diagnosis, ensure equitable access to care and treatment, and ultimately improve the quality of life for people with bleeding disorders. The program will also address the need for relevant education and support programs in both the West Bank and the Gaza Strip.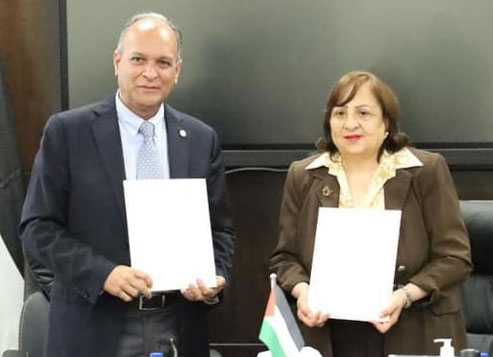 On-the-ground WFH support will focus on helping key stakeholders launch outreach campaigns, training laboratory specialists on the diagnosis of hemophilia and VWD, supporting the Palestinian National Hemophilia Committee, and providing specialized advice to healthcare practitioners (HCPs) on how to make sure that the delivery and organization of care is optimized. The WFH will also seek to mobilize volunteers to train multi-disciplinary teams in Palestinian hemophilia treatment centres (HTCs) to improve care. Support will also be provided for data collection so decisions about access to treatment are tailor-made to the realities in Palestine.
"We are very excited about the formalization of this collaboration with our Palestinian counterparts," said Rana Saifi, WFH Regional Manager, Middle East. "The MOU signing and the 2-day training workshop that followed kickstarted a process that we know will build a sustainable program. We are very grateful to HE Minister Kailah and to the Director General of Allied Health Services, Osama Najjar, MD, for their deep commitment to improve bleeding disorders care. HCPs across Palestine are highly motivated to work jointly and adopt protocols relevant to the Palestinian context. The NMO volunteers are also very excited to play a part. We have the right elements in place for a 'winning coalition'." 
To find out more about the WFH Path to Access to Care and Treatment (PACT) Program, please click here.
The PACT Program is supported by funding from Roche, our visionary partner; CSL Behring, Pfizer, and Sanofi Genzyme, our leadership partners, and Biotest, Grifols, and Sobi, our collaborating partners.