The World Federation of Hemophilia (WFH) is pleased to announce that a memorandum of understanding (MoU) has been signed between the Directorate General of Health Services (DGHS) under the Ministry of Health and Family Welfare and the WFH to implement the Path to Access to Care and Treatment (PACT) Program to improve diagnosis, treatment, and care for people with bleeding disorders in Bangladesh. The Hemophilia Society of Bangladesh (HSB) is the primary implementing partner, and will work with the DGHS and the WFH to implement the Program. The MoU is the result of more than two decades of outreach and advocacy work by the HSB, under the leadership of President Mohammad Nurul Islam, and in collaboration with the DGHS.
The PACT Program is a 5-year initiative designed to improve outreach and diagnosis and increase access to sustainable care for people with inherited bleeding disorders. This is done through training, education, partnerships, in-country initiatives, and evidence-based advocacy. There are about 2,400 people who have been identified with a bleeding disorder in Bangladesh–which is only about 14% of the expected prevalence rate of over 17,000. Consequently, a key part of the PACT program will be identifying more people with bleeding disorders and improving their access to care.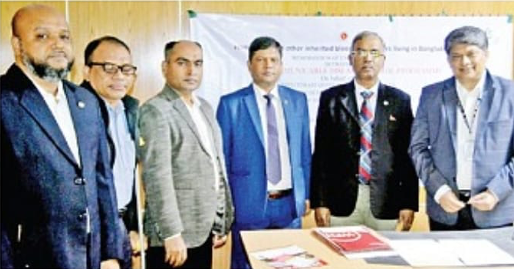 2021 was the first year for the PACT Program in Bangladesh, and much has already been done. The HSB successfully conducted outreach and advocacy activities throughout the year, and over 250 people with bleeding disorders were identified. The HSB also established two new chapters and supported the opening of two hemophilia treatment centres (HTCs) in government medical colleges. In addition to this, the HSB launched a 24/7 call centre for the local bleeding disorders community.
"History has been written today for the whole hemophilia and bleeding disorders community of Bangladesh," said Nurul Islam, President of the HSB. "The HSB wholeheartedly thanks the DGHS—especially Mohammad Robed Amin, MD, the Line Director of the Noncommunicable Diseases Control (NCDC) department—and the WFH for coming forward to support the bleeding disorders community of Bangladesh."
The PACT Program is supported by funding from CSL Behring, Pfizer, Roche and Sanofi Genzyme, our leadership partners, and Biotest, Grifols, and Sobi, our collaborating partners.