During the visit, the WFH Humanitarian Aid Program team talked with specialists, the national member organization (NMO), and of course, people with bleeding disorders (PWBDs). Their stories were encouraging—and heartwarming.
The National Hospital in Colombo, Sri Lanka is the largest children's hospital in Southeast Asia. There, doctors and specialists told Program team members about how much good has been done. They spoke about how donated treatment products are allowing children to have a normal life. For children, access to care has literally been life changing, as they have gone from suffering debilitating acute bleeds to running around and playing with their peers. An interview of a woman with two sons showed first-hand how donated factor can change a life of struggle into a life with happiness and a bright future.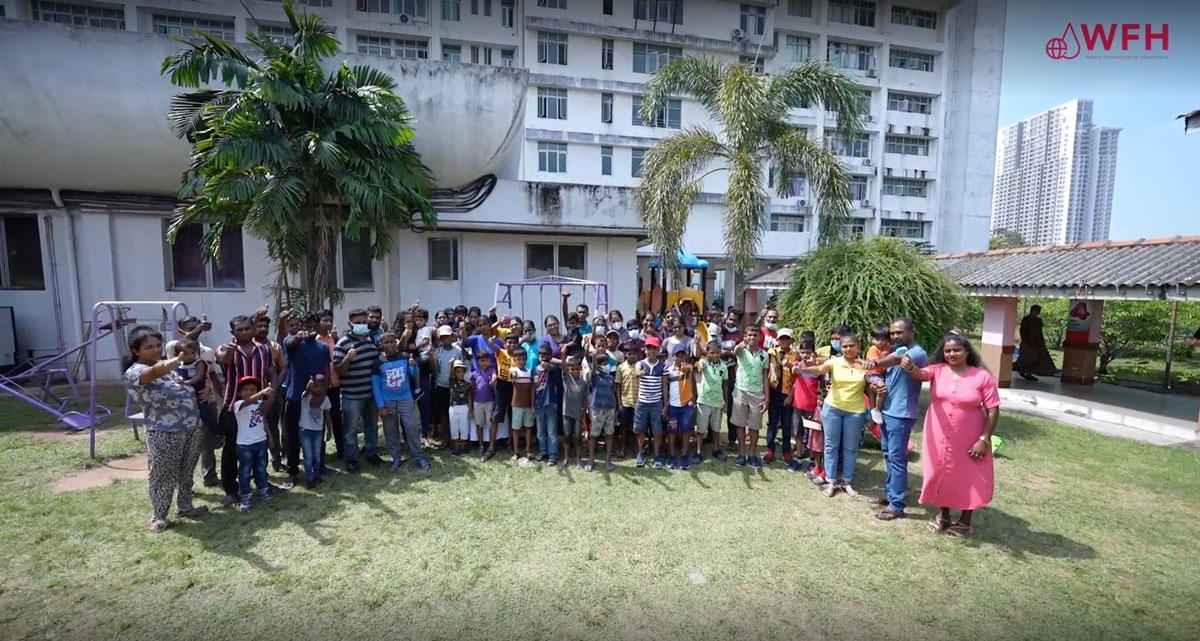 On a visit to the adult HTC, hematologist Visaka Ratnamalala, MD, and Assad Haffar, MD, Medical & Humanitarian Aid Director, WFH, discussed the strength of the partnership between the HTC and the WFH. Haffar said that their relationship was highly valued because of the significant improvement in care that can be seen in the Sri Lankan bleeding disorders community. One person with a bleeding disorder (PWBD) at the HTC told Haffar how donated factor has meant that he no longer needs to worry about the constant threat of bleeding.
To find out more details about some of these stories, please read our article, "WFH Humanitarian Aid Program stories in Sri-Lanka" here. To read an article about how hemophilia treatment centres (HTCs) in the country are using data to increase the standard of care in Sri-Lanka, please click here.
The WFH Humanitarian Aid Program has donated nearly 64 million IUs of factor and over 490,000 mg of non-factor replacement therapy to Sri Lanka since 2015. Over 1.1 million IUs of factor, and nearly 72,000 mg of non-factor replacement therapy have already been donated so far this year. To find out more about the Program, please click here.
About the WFH Humanitarian Aid Program
The WFH Humanitarian Aid Program improves the lack of access to care and treatment by providing much-needed support for people with inherited bleeding disorders in developing countries. By providing patients with a more predictable and sustainable flow of humanitarian aid donations, the WFH Humanitarian Aid Program makes it possible for patients to receive consistent and reliable access to treatment and care. None of this would be possible without the generous support of Sanofi and Sobi, our Founding Visionary Contributors; Bayer, CSL Behring and Roche, our Visionary Contributors; Grifols, our Leadership Contributor; and Takeda and Japan Blood Products Organization, our Contributors. To learn more about the WFH Humanitarian Aid Program, visit www.treatmentforall.org.