The myWBDR mobile application is designed to make it easy for PWH to collect patient reported outcome data, empowering them to participate in monitoring their own health outcomes and contributing to advancing our knowledge of hemophilia through data. Come join us on Tuesday for the official launch of myWBDR and test the app yourself at the WFH 2022 World Congress.
The myWBDR app allows users to securely track bleeds, level of pain, and treatment. Bleed and treatment information can be recorded on the app in less than one minute. Data are transmitted accurately and securely to the WBDR database. myWBDR works offline and is available in English, French, Hindi, Russian, Spanish, Thai, and Vietnamese. If you are registered at a hemophilia treatment centre (HTC) that is participating in the WBDR, this app is right for you.
The myWBDR app also collects changes in health status through the Patient Reported Outcomes Burdens and Experiences (PROBE) and the EQ-5D-5L questionnaires. The PROBE Study is celebrating 10-years of being a valuable and validated hemophilia research tool to enhance the collection and interpretation of real-world quality-of-life data—powered by the voice of patients. When using PROBE within the myWBDR app, PWH will be able to see how their quality-of-life scores change over time, and, shortly, users will be able to see how they compare to others like themselves! PROBE is growing rapidly. It currently reaches over 100 countries, with more on the way. Join us to learn about the many ways that PROBE research can be used to amplify registry data, and how it's being used within our community. Through a secure connection, users will be able to access the full power of both WBDR and PROBE using a streamlined interface.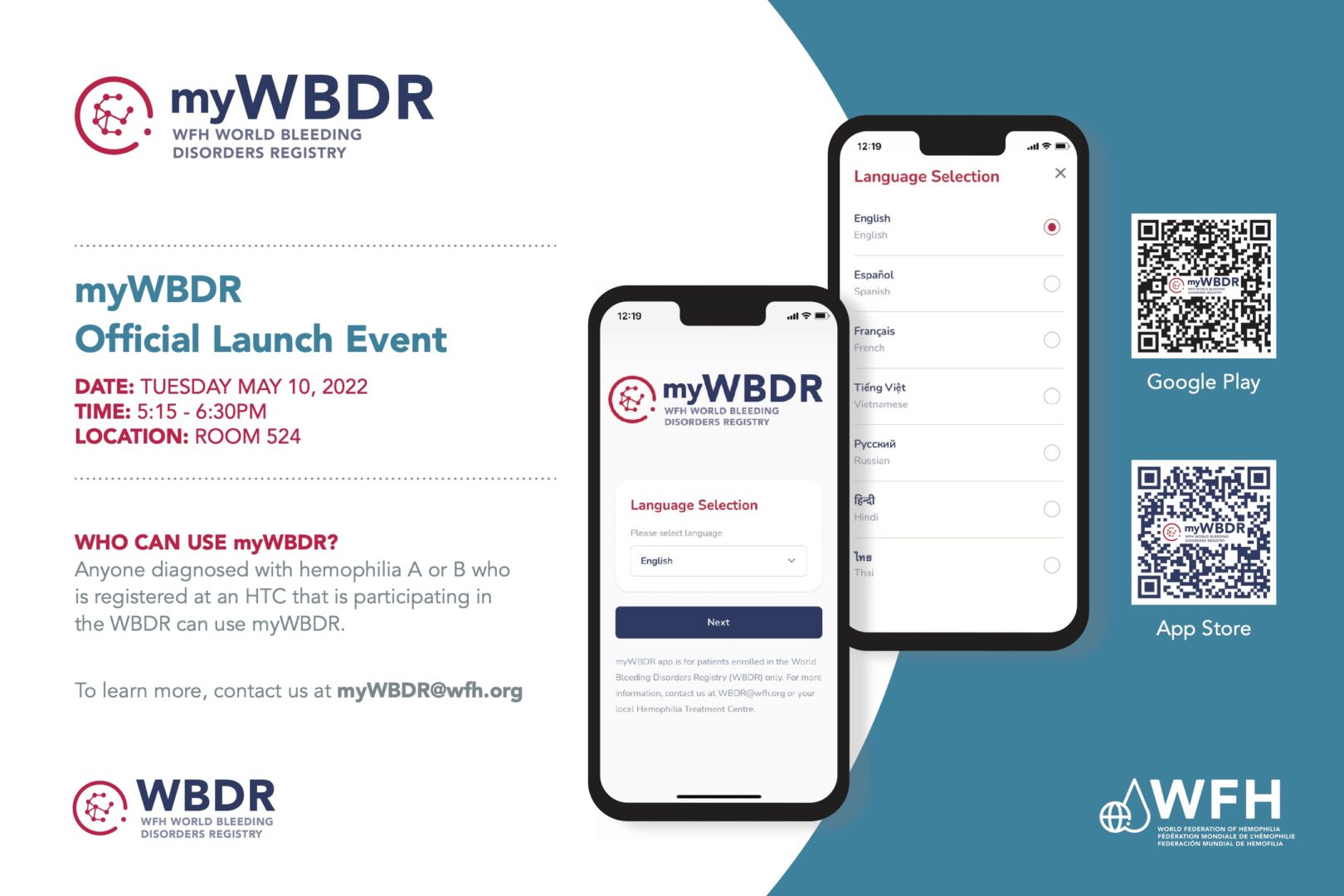 To download myWBDR for iPhones, click here.
To download myWBDR for Android phones, click here.
To find out more about the WBDR, click here, or visit the WFH Resource Centre (1113).
To find out more about PROBE, click here, or visit the PROBE Booth (1114).
Join us for refreshments and like-minded company at the official myWBDR launch event!
Date: Tuesday May 10th, 2022
Time: 5:15 – 6:30 pm
Room: 524