Pro+ sessions information
Our multidisciplinary committees have developed extraordinary talks for 2022. And now, with the addition of the Pro+ package, attendees can enjoy the complete conference experience.  In-person attendees must register for the Pro+ add-on if they wish to view any of the nursing sessions, dental sessions, lab science sessions, or MSK sessions and their related workshops.
Not only can virtual attendees enjoy all the live streamed sessions directly from the conference venue, but they can also attend or view—on-demand—all the virtual-only content that the program has to offer with the Pro+ add-on.
Not sure if the Pro+ package is right for you? View the full program to explore which sessions are included in the Pro+ package!
Tip: Look for the sessions with this logo:  
Restrictions are being lifted in Montreal, and across Canada!
Restrictions continue to be lifted in Canada and in Montreal. If you are still undecided on whether to attend in person or virtually, please visit our registration page to explore your options.
Registration deadline fast approaching
Online registrations for the in-person component of the WFH 2022 World Congress are open until midnight EST on Sunday, May 1. After this date, registrations will be accepted on-site at the Palais des congrès as of 7:30 a.m. on Sunday, May 8 at the registration desk located in the exhibition hall (room 220BCD).
The WFH 2022 Congress Housing is now closed
Learn more about the Congress platform!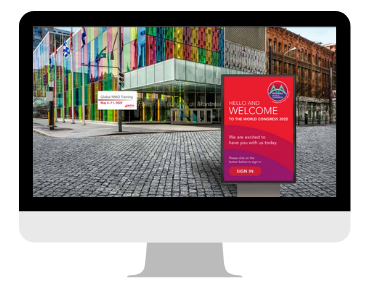 Get access to a select number of live sessions, on-demand content, and opportunities to network and share expertise with other participants who are online and in person on the Congress platform.
Use the Congress app (coming soon!) to access our virtual events. This app offers nearly all the same features as the desktop version, including:
Agenda
Session and speaker information
Ability to join sessions
Participate in polls, and the Q&A live panel
Meeting Hub
Event notes
Gamification Hub
Live support, and more